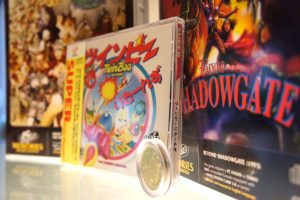 Ein neues Spielebundle von PCEWorks wurde released! Das PCE Memories Limited B/M/T Bundle mit den PC Engine Re-Releases von Beyond Shadowgate Deluxe Edition und
Might & Magic III: Isles of Terra Deluxe Edition sowie erstmalig auch einem Solo-Veröffentlung von Twin Bee Returns.

Konami's Twin Bee Returns war bisher übrigens nur spielbar, wenn man sich durch das text-lastige Tokimeki Memorial kämpfte – mangels Sprachkenntnisse meinerseits nicht machbar 😉 – so gesehen bin ich sehr dankbar um diese Solo-Fassung.
Beyond Shadowgate erschien 1993 exklusiv als, inzwischen sehr selten geltendes, Turbo Grafx CD-ROM, weitere Details zu dem Click&Point Adventure unter anderem bei Wikipedia.
Während Might & Magic III: Isles of Terra, womöglich noch Einigen von Euch aus den alten Amiga-Zeiten bekannt, ein relativ bekanntes RPG ist und die Turbo Graf Umsetzung zudem die technisch Schönste im Vergleich zu den Fassungen auf anderen (Spiele-)Computern.
Durch das PCEWorks Release haben nun beide Games, BS sowie M&MIII, extrem schöne Boxes und Special Contents in Form von Karten und Booklets erhalten, die bisher vermutlich luxuriösten Ihrer Art 🙂
Für 129 Euro – limited quantities in stock – ist das PCE Memories Limited B/M/T Bundle bei PCEworks, seit bereits knapp vier Wochen, erhältlich.